Are you planning a special wedding? How about a genuine & very unique Japanese wedding ceremony? Dressed in the traditional way, the bride will be like the Japanese princess in "Junihitoe" and the groom will look like the emperor in "Shikifuku-Sokutai", the official clothing style of the emperor family.

For 98 years the former Japanese government was situated right next to that house (Wakamiyaojibakufukyuseki). During that timespan, the Shoguns of the emperor family governed Japan for 81 years.
TEL +81(0)467-38-8061
KIMONO RENTAL
KIMONO RENTAL(4hours Rental)-Fee for kimono rental includes the fees for kimono, fancy goods and dressing. You have a choice from our "Real Silk " KIMONO collection (KOMON/HOUMONGI style kimono are available). Underwear/TABI(socks) for kimono are not included.
Rental hour extension will be available with additional fee(1,000yen/h)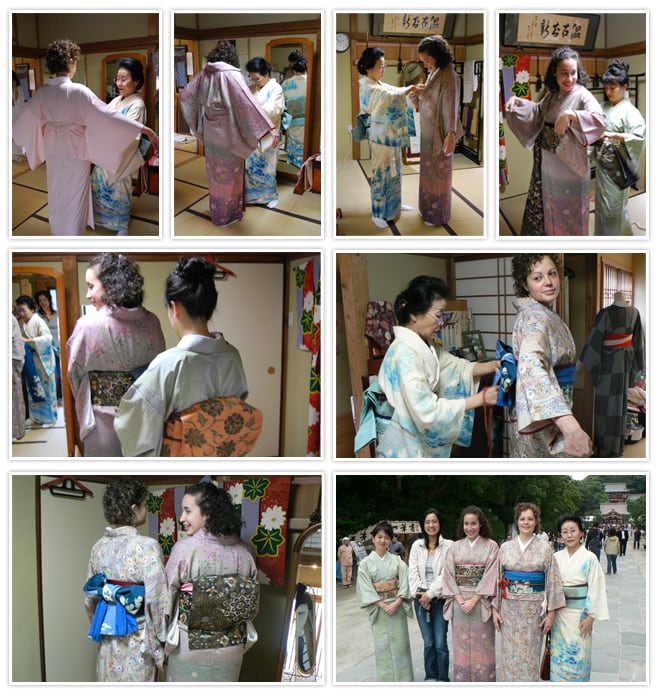 KIMONO RENTAL-Fee
KIMONO RENTAL
OFFICE OPEN
KOMON
6,800yen/Person
9:00〜19:00
HOUMONGI
15,000yen/Person
Please use our service for your special day dressing.(such as wedding, party, tea ceremony etc.
Reservation required
It is also possible to join insurance worrying about the stain, damage and the loss.
It becomes a rain, we will lend the rain court(for kimono), or it is also possible that it enjoys indoors with powdered/green tea & wagashi(separately charge) after dressing.